A Safe School Environment (Incident Command System)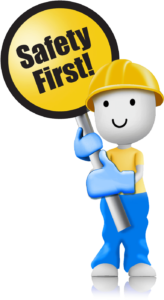 Fire
Flood
Violence/terrorism
Severe weather
Earthquake
Chemical spills
Bomb threat
Power outages
Reunification
Evacuation:  If it is unsafe for students and staff to remain inside the building, the school is evacuated.  Students and staff may be relocated to a safe location off school property, if necessary.  An evacuation is conducted for an emergency such as a fire.
Lockout:  If there is a threat of violence on or near the campus, the school implements a lockout.  In a lockout, all students and staff are brought inside the building and all exterior doors are locked until the threat has been resolved.  Parents and other visitors may not be allowed in the school during a lockout.
Lockdown:  If there is an intruder inside the building, the school implements a lockdown.  In a lockdown, all students and staff remain behind locked interior doors until law enforcement clears the building.
Shelter-in-Place:  If there is severe weather or threatening conditions outside the school, a shelter-in-place procedure is implemented.  All students and staff move to safe locations inside the building.
Aspen Elementary conducts a practice drill monthly with students throughout the school year.
How will parents/guardians be notified if an incident occurs at school?
We will use a variety of resources to notify parents/guardians, including:
Alert by phone and/or email (Skylert message)
Social media
Local media outlets
Aspen Elementary Website
Parents/guardians may be notified directly by Skylert in certain situations, and will be provided information and/or instructions.  It is important for parents/guardians to ensure that emergency contact information is accurate in Skyward.
Reunification
Reunification is a process that is enacted when a school is required to conduct a controlled release of students to parents/guardians following an emergency, or another significant disruption to the normal schedule.
In this circumstance the school or District will send parents/guardians information related to Reunification by using Skylert messages, emails, etc.  Parents/guardians will be given instructions on when and where the Reunification will occur.  Before a student can be released, the parent/guardian must complete a Reunification Checkout Card and present a valid picture ID for verification.
Once at the Reunification site, parents/guardians will be given a Reunification Checkout Card to complete, or may fill out and print in advance by clicking on the link below.