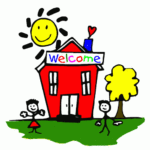 Please click here to register your child for grades K-6th Grade if they are new to the Jordan School District   Registration forms*
*NOTE- if you are currently in Jordan School District and transferring to Aspen Elementary, please watch for registration information on our website which you will need to complete at the beginning of August.
Once you have completed the online portion of the registration,  please bring hard copies into the school office at the beginning of August .  We will need the following:
Original birth certificate
Parent/legal custodial guardian's picture identification
Current Immunization Record
2 Proofs of Residency Required (1 from each column)
---
* Registration for Pre-school 23-24 School Year is now CLOSED
REGISTRATION FOR PRE-SCHOOL OPENS FEBRUARY 27 FOR THE 2023-24 SCHOOL YEAR

Who: Preschool age students 
When: Monday February 27th at 8:00 a.m. 
Registration Information
If your child turns 5 on or before September 1, 2023 they can not enroll in Preschool.
 $40 non-refundable registration fee
Tuition will be $100 per month
New students will need to provide:

Birth Certificate
Current Immunization Records or Exemption Form
Proof or address
Photo ID
Any questions please call our office 801-567-8510.